Each week, Index on Censorship's Mapping Media Freedom project verifies threats, violations and limitations faced by the media throughout the European Union and neighbouring countries. Here are five recent reports that give us cause for concern.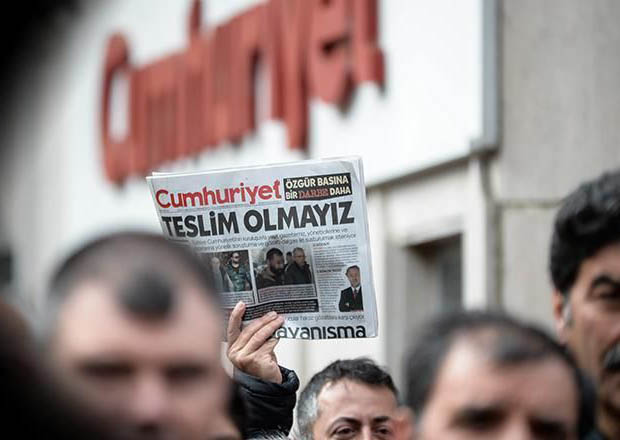 After passing a law issued by the interior ministry, Turkey has shut down and arrested members of approximately 370 independent organisations, including many media platforms.
A full list of these organisations is unavailable since the Turkish government claims some cases are still under investigation.
Since the state of emergency declared by Turkey this summer after the attempted military coup, the government has been shutting down media and civil organisations. Some of the organisations recently shut down have been the Dokuz8 News Site, Free Women's Congress, the Kurdish Writers' Association and the Fair Women's Association.
Turkey has declared that all these independent organisations are allegedly linked to terror groups.
One organisation to fall victim to Turkey's crackdown was the Cumhuriyet Foundation, a secular, liberal media platform. Nine journalists for Cumhuriyet, as well as the president of the executive board, Akın Atalay, were arrested within the past several weeks. They were charged with terrorism, the government saying that although the journalists were not official members of the terrorist group they engaged in activities for the organisation.
The arrest of the Cumhuriyet journalists raises the number of jailed journalists to 144.
Les Jours journalist, Olivier Bertrand, was working in Gaziantep to collect stories about post-coup Turkey. While there, Bertrand was detained by police with no reason given. On Sunday, French Foreign Minister Jean-Marc Ayrault demanded that Bertrand be set free.
Bertrand was released by Turkish authorities and deported back to France.
Notre journaliste @Ol_Bertrand vient de passer 3 jours en détention en Turquie avant d'être expulsé. Il raconte.https://t.co/W1BPxU8aR7

— Les Jours (@Lesjoursfr) November 16, 2016
Freelance journalists Kastus Zhukouski and Aleksei Atroshchanka were working for Belsat TV in Svetlahorsk. While attempting to film trees being cut down by authorities, the two journalists were approached by police, who demanded to see their credentials.
After their IDs were initially checked, a police major who identified himself as Vyazhevich, approached and demanded to see the journalists' credentials.
Zhukouski and Atroshchanka told the major that they had just shown their IDs and saw no reason so show them again.
Zhukouski told Belsat.eu that, the "major began to shake– his reaction was strange. He began to yell at us, asking if we have accreditation? We said that the right to freely spread information is guaranteed by the Constitution of Belarus. Major said we had to go to the police station. We did not resist. In the station he behaved inappropriately: grabbed the camera, my arm, pushed me, insulted me, and tried to provoke me in every way. I wrote a complaint about such actions of the police…"
After being held in the police station for three hours and having their belongings searched, the journalists were released.
Dennis Schouten, a journalist for PowNed was assaulted at a Rotterdam protest against the children's character, Black Pete, who is part of the yearly celebration of Saint Nicholas. The character is supposed to be Saint Nicholas' servant and is usually portrayed by a white person in blackface. The protesters were arguing the portrayal is racist.
While interviewing a protester, Schouten was pushed in front of a moving car. The reporter received no injuries.
The perpetrator was arrested by police at the scene.
Novaya Gazeta correspondent Dmitry Rebrov and a film crew for TV Rain were detained while covering truck driver protests in Moscow.
The demonstrators were protesting the "Plato" system, which charges the drivers tolls on federal highways.
This article was originally published at indexoncensorship.org.