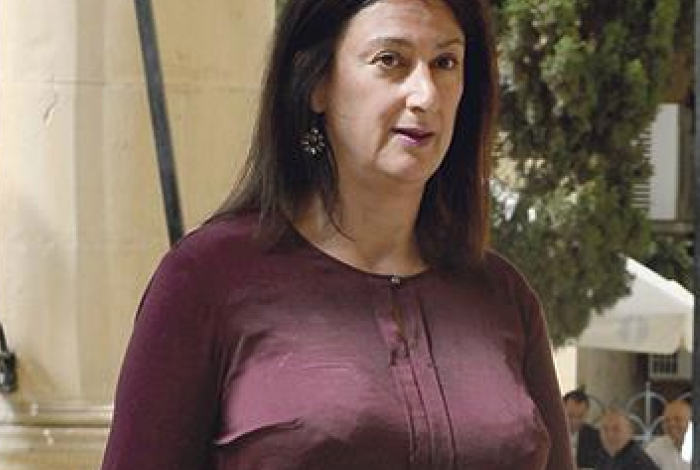 Daphne Caruana Galizia was a Maltese journalist and blogger known for her investigative reporting on controversial and sensitive information.
Fifteen days after filing a police report that she was being threatened, Caruana Galizia was killed when the car she was driving exploded.

"We strongly condemn the violent killing of investigative journalist Daphne Caruana Galizia. We urge the Maltese authorities to swiftly and thoroughly investigate the circumstances to bring the perpetrators to justice," Hannah Machlin, project manager of Mapping Media Freedom, said.
Caruana Galizia ran her own news blog, Running Commentary. The site sometimes attracted as many as 400,000 readers a day (Malta's population is just around 420,000). Her blog relentlessly exposed corruption among Malta's politicians. It became the focal point of many legal battles, including multiple libel suits.
In August 2017, opposition leader Adrian Delia filed a lawsuit against Caruana Galizia over stories linking him with offshore accounts connected to sex work in London. She accused Delia of money laundering, claiming that around £1 million earned from prostitution in London flats was being processed through Delia's Barclays International account in Jersey. Delia filed five libel suits against Caruana Galizia.
Caruana Galizia also published a series of articles accusing Silvio Debono, owner of real estate investment company DB Group, of making a deal with the Malta government to take over a huge area of public land to build a Hard Rock Hotel and two towers of flats for sale. In March 2017 Debono filed 19 libel cases against Caruana Galizia.
When Galizia reported in February that Economic Minister Chris Cardona and EU presidency policy officer Joseph Gerada visited a brothel in Germany while on official business, four precautionary warrants froze her assets. Each politician also filed two civil suits against her.
In January 2016, lawyers requested that Caruana Galizia reveal confidential sources, one of which claimed that the energy minister was seen kissing his communications coordinator. The minister's lawyers questioned her "professional capacity as a journalist".
Caruana Galizia was the first to report that Malta's government minister Konrad Mizzi and chief of staff Keith Schembri were connected to the Panama Papers leak. Her involvement in history's biggest data leak named her among Politico's "28 people who are shaping, shaking, and stirring Europe".  
In March 2013 she was arrested for discussing politics on the internet during "day of silence," a day in which no one in Malta is allowed to publish anything that may have an effect on voters or voters' intentions. On her blog post recounting the experience: "It was obvious to me that they had come with a warrant of arrest to have an excuse to keep me locked up until tomorrow and away from the internet, literally physically preventing me from writing."
Caruana Galizia was born in Sliema on the northeast coast of Malta in 1964. She attended the University of Malta and graduated BA in archaeology in 1997. She began her career as a columnist for the Sunday Times of Malta in 1987 and later became the Associate Editor of The Malta Independent.
One of her sons, Matthew Caruana Galizia, was part of the team that broke the Panama Papers.