On 2 November, the International Day to End Impunity for Crimes Against Journalists, Index joined activists and five other organisations for a vigil outside the High Commissioner's Office of Malta for murdered journalist Daphne Caruana Galizia.
Caruana Galizia was one of the best-known journalists and bloggers in Malta, recognised for her fearless reporting on controversial information surrounding government corruption. On 16 October 2017 Caruana Galizia was murdered in a car bomb attack near her home. 
"The murder of a prominent investigative journalist in broad daylight in an EU member state underscores the seriousness of this crime," said Hannah Machlin, project manager for Index on Censorship's Mapping Media Freedom programme. "Daphne Caruana Galizia's work as a journalist to hold power to account and shine a light on corruption is vital to maintaining our democratic institutions."
Galizia's blog, Running Commentary, often generated more readers than all of the country's newspapers combined. At the time of her death, over 40 libel suits had been taken out against her. According to her son, death threats were almost a daily occurrence.
"She knew there was a price to pay, but I never thought it was going to be this," Gabriel Fraga, a friend of Caruana Galizia's son, told Index. "Independent journalism is made by people like her. If we don't protect people like her then we don't have independent journalism." 
Protesters called on the European Union to hold the Maltese government accountable and to further investigate corruption in the EU.
"I'm hoping that today's gathering really helps to establish more public pressure on the Maltese authorities and the international community to really take this seriously and investigate it," Rebecca Vincent, UK bureau director of Reporters Without Borders said. "It's a vicious cycle of these attacks and then impunity. It really sends a signal when nobody is ever brought to justice that violence is an acceptable means of silencing opinions, which is not the case."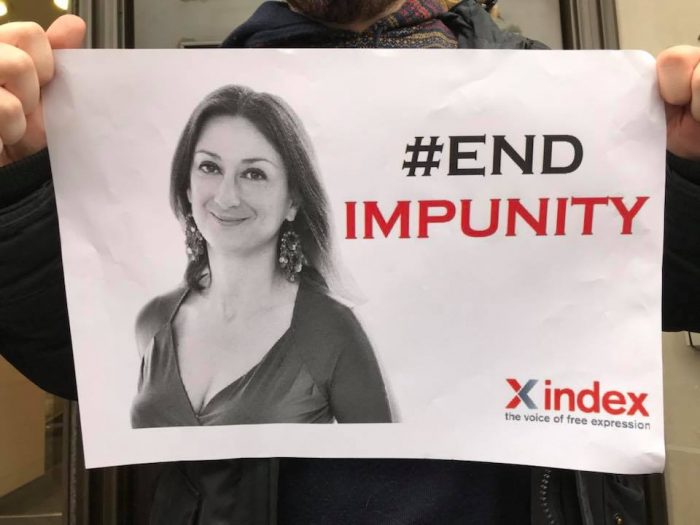 Attendees of the vigil held signs with the words #EndImpunity and #NoImpunity, chanted and read aloud articles published by Caruana Galizia.
"This shouldn't silence her. This should fuel people to carry on her work," Melanie Vella, said. Vella is from Malta and has written pieces for the Malta Times.
The vigil in London was attended by many concerned Maltese journalists. Across Malta, Caruana Galizia's death shocked citizens. 
Caruana Galizia's work is sure to continue to inspire activists of free expression in Malta and worldwide.