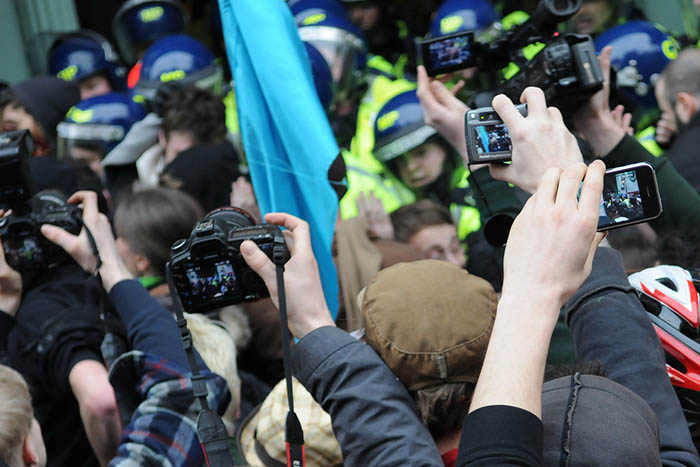 Each week, Index on Censorship's Mapping Media Freedom project verifies threats, violations and limitations faced by the media throughout the European Union and neighbouring countries. Here are recent reports that give us cause for concern.
Five journalists were detained in Orsha on 12 March after covering a protest against a new law that would tax unemployed people labeled as "parasites", Radio Svaboda reported.

Radio Svaboda's Halina Abakunchyk, photographer for BelaPAN Andrei Shaulyuha and blogger Anastasia Pilyuhina were detained after the rally along with demonstrators and taken to Orsha district police department.

Freelance journalists working for TV channel Belsat, Alyaksandr Barazenka and Katsyaryna Bahvalava, went to the police station to get a comment from a detained opposition activist, only to be detained as well. Pending trial they spent the night in jail.
Abakunchyk and Bakhvalava were ordered to pay fines. Abakunchyk was accused of participating in an unsanctioned mass event under Aryicle 23.34 of the Code of Administrative Offences and fined approximately €280. Bakhvalava was accused of illegal production and distribution of media products and disobeying the police under Article 22.9 and Article 23.4 of the Code of Administrative Offences and fined approximately €340.
Up to 18 journalists and bloggers were arrested while covering the protests, IFJ reported.
Conservative MP Jean-François Mancel filed a proposed law to the National Assembly on 10 March which intends "to remove protection of the confidentiality of journalistic sources if protection of the public interest justifies it".

The proposed law reads: "Contrary to what is generally said by journalists and their representatives, the systematic protection of sources' confidentiality and the will to further reinforce it seriously compromises the respect of individual freedoms and the protection of civilians against acts of aggression from the media."

Mancel accused journalists who have covered allegations of fraud involving conservative candidate François Fillon of going after the candidate unfairly, for instance on his Twitter account.
Hakan Büyük, a Turkish-Dutch journalist for the newspaper Zaman Vandaag has been receiving death threats on Twitter, news portal Villamedia reported on 13 March.
The threats began after a diplomatic row between Turkey and The Netherlands led to violent pro-Erdogan protests in the streets of Rotterdam. Earlier, Dutch authorities banned a Turkish minister from campaigning for an upcoming Turkish referendum.
Büyük received at least ten threats in Turkish, one of which read: "We will not arrest you, you will be killed." He has filed charges with the police.
Zaman Vandaag was founded by Gulen sympathisers, who are being blamed for the failed coup in Turkey in the summer of 2016.
Unidentified protesters assaulted and verbally harassed two different TV crews during a pro-opposition protest on 10 March in Skopje, news agency META reported.
Hristijan Banevski, a reporter for private broadcaster TV 24, was "firstly verbally attacked and then hit in the head with a stick holding a flag during the protest in Skopje".
That same night, a TV Telma crew was verbally harassed while interviewing protesters. Without giving much detail, the channel reported that their journalists were cursed at.
Local journalists' associations have called upon the North Macedonian institutions to take appropriate measures and to come out in defence of the journalists, news agency META reported.
President of the Association of Journalists of North Macedonia (ZNM), Naser Selmani, underlined that what is worrying is that public officials, including representatives of state institutions, participated in these coordinated attacks.
In the last four years, according to ZNM's data, 44 attacks against journalists were reported in North Macedonia. Out of these, 19 occurred in 2016.
Officers from the Russian Security Service (FSB) detained reporter Igor Zalyubovin and photographer Vladimir Yarotsky for the Moscow-based independent news magazine Snob on 7 March, the publication said in a statement. The journalists were in the apartment they rented to report on daily life in the city of Svetogorsk.
An article was planned as a response to Svetogorsk Mayor Sergey Davydov's 1 March claim that there were no homosexuals in the city, and that it was a "city without sin," according to press reports.
On 7 March, the Committee to Protect Journalists issued a statement saying Russian security services should stop harassing and obstructing journalists and should allow them to work unimpeded.
To visit Svetogorsk requires either a Schengen visa to enter via Finland, an invitation from a local resident, or a special permit from the FSB, according to 2014 legislation. Snob's editor-in-chief, Yegor Mostovshikov, told the news website Meduza today that his outlet did not apply for a permit from the FSB "because it takes up to 30 days to get it."[/vc_column_text][/vc_column][/vc_row]
---

Click on the bubbles to view reports or double-click to zoom in on specific regions. The full site can be accessed at https://mappingmediafreedom.org/
---