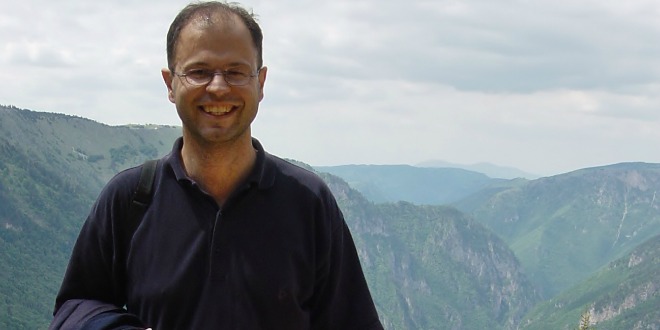 Independent journalist Jovo Martinovic's arrest with 13 other individuals during a joint Croatian and Montenegrin police operation on 22 October 2015 began an ongoing ordeal.
Martinovic was taken into custody "on reasonable suspicion that he committed criminal offence – creation of criminal organisation and unauthorised production, possession and distribution of narcotics", according to Montenegro's ministry of justice. Media reports explained the case more colloquially: Martinovic was detained for allegedly facilitating a meeting between drug dealers and buyers, and helping them to install a messaging app on their smartphones that is allegedly untraceable by the police.
Following Martinovic's arrest, it took more than five months for the Special Prosecutor's Office to raise an indictment against him. Then he spent an extra six months in pre-trial detention before the court case began on 27 October 2016. In total, Martinovic, who insists he is not guilty and the contacts with the suspects spent around one year in jail before the trial even took place. He was conditionally released on 4 January 2017. He remains under a travel ban and must report to police twice a month until the court's final verdict is issued.
The length of Martinovic's pre-trial detention provoked OSCE representative on freedom of the media Dunja Mijatovic and other watchdog organisations to call for a swift conclusion of his case. "Prolonged detention can have a detrimental impact on media freedom and a chilling effect on investigative journalism," Mijatovic said.
The Committee to Protect Journalists, Human Rights Watch and Reporters Without Borders wrote a joint letter to Montenegrin prime minister Milo Djukanovic protesting the prolonged pre-trial detention and prosecution. The International Federation of Journalists wrote a letter to Djukanovic stating that they were "shocked by the gravity of his possible sentence being more than 10 years in prison". Journalists who have worked with Martinovic wrote testimonies that in support of his professional integrity.
Martinovic has insisted that he is not guilty, adding that his contact with the two of the 13 suspects was linked to his journalistic work.
The main suspects, Dusko Martinovic (no relation) and Namik Selmanovic, who is co-operating with prosecutors, were helping the journalist in his reseatch for two documentaries, firstly a Vice documentary on the infamous Pink Panthers, a gang of gem thieves, and La Route de la Kalashnikov, a documentary about weapons smuggling commissioned by French production company CAPA Presse. The second programme, which exposed illegal smuggling of weapons from the Balkans into western Europe, was aired on the French television channel Canal+. 
During one of the court sessions, Dusko Martinovic testified that met Martinovic for the first time in 2012 while he was serving time in prison for crimes related to his membership in the Pink Panthers. He also testified that the journalist had no involvement in illegal activities.
"Jovo did not take part in any drug smuggling operation," Dusko Martinovic said in the court, Montenegrin daily Vijesti reported. In its coverage, the newspaper reported that Dusko Martinovic stressed that his contacts with Martinovic were strictly connected with the VICE documentary and later for a possible Hollywood movie about the Pink Panthers. Dusko Martinovic also said that he was offered a plea bargain by prosecutors if he testified "that Jovo was included in the drug smuggling".
The one-year detention of Martinovic has raised questions about the country's commitment to freedom of the press, Human Rights Watch associate director for program Fred Abrahams wrote: "The start of his trial last week did nothing to allay those concerns. To date, the evidence against Martinovic offered by deputy special prosecutor Mira Samardzic is weak, at best. She has allegedly incriminating statements from two of Martinovic's co-accused, both of whom face jail sentences and have an incentive to co-operate with prosecutors. She also has recorded phone conversations between Martinovic and the alleged gang leader, Dusko Martinovic (no relation), but defence lawyers and others who have read the transcripts say they contain nothing to incriminate Jovo."
Once free, it was much easier for Martinovic to tell his side of the story. Speaking to Mapping Media Freedom in a limited capacity about the ongoing case he said: "I do reject with indignation the charges laid against me. I was doing my job as a reporter and that is an undeniable fact."
Martinovic said that until the trial ends he won't be giving other statements.
"I will fight in court to the utmost to defend my innocence".
---

Click on the bubbles to view reports or double-click to zoom in on specific regions. The full site can be accessed at https://mappingmediafreedom.org/