December 2014

Journalists and media workers are confronting relentless pressure as they do their jobs, a survey of the first six months of incidents reported to Index on Censorship's Mapping Media Freedom project has found.

In the six months since the mapping project was launched, over 500 reports — including 61 violent attacks on journalists — from across Europe have been verified and published. Reports have come in from as far afield as Finland and Malta, Ireland and Turkey.

Over 150 reports have been mapped to the states of the former Yugoslavia and Italy. However, as the map shows, violations of media freedom and violent incidents against journalists are being committed across Europe, with physical violence and online harassment becoming growing problems.

The map, which was funded by the European Commission, launched on 24 May 2014 in partnership with Osservatorio Balcani e Caucaso and allows anyone — from members of the public to journalist unions — to submit reports for verification by Index's European Union correspondents.

"Since we launched the platform, we have recorded a number of abuses against media professionals ranging from intimidation and preventing access to information, to murder. What struck me when speaking to some journalists is that too many considered receiving threats as a 'part of the job'. It shouldn't be. This map is an essential tool to improve the capacity of journalists, media organisations and others to confront those threats," Index Senior Advocacy Officer Melody Patry said.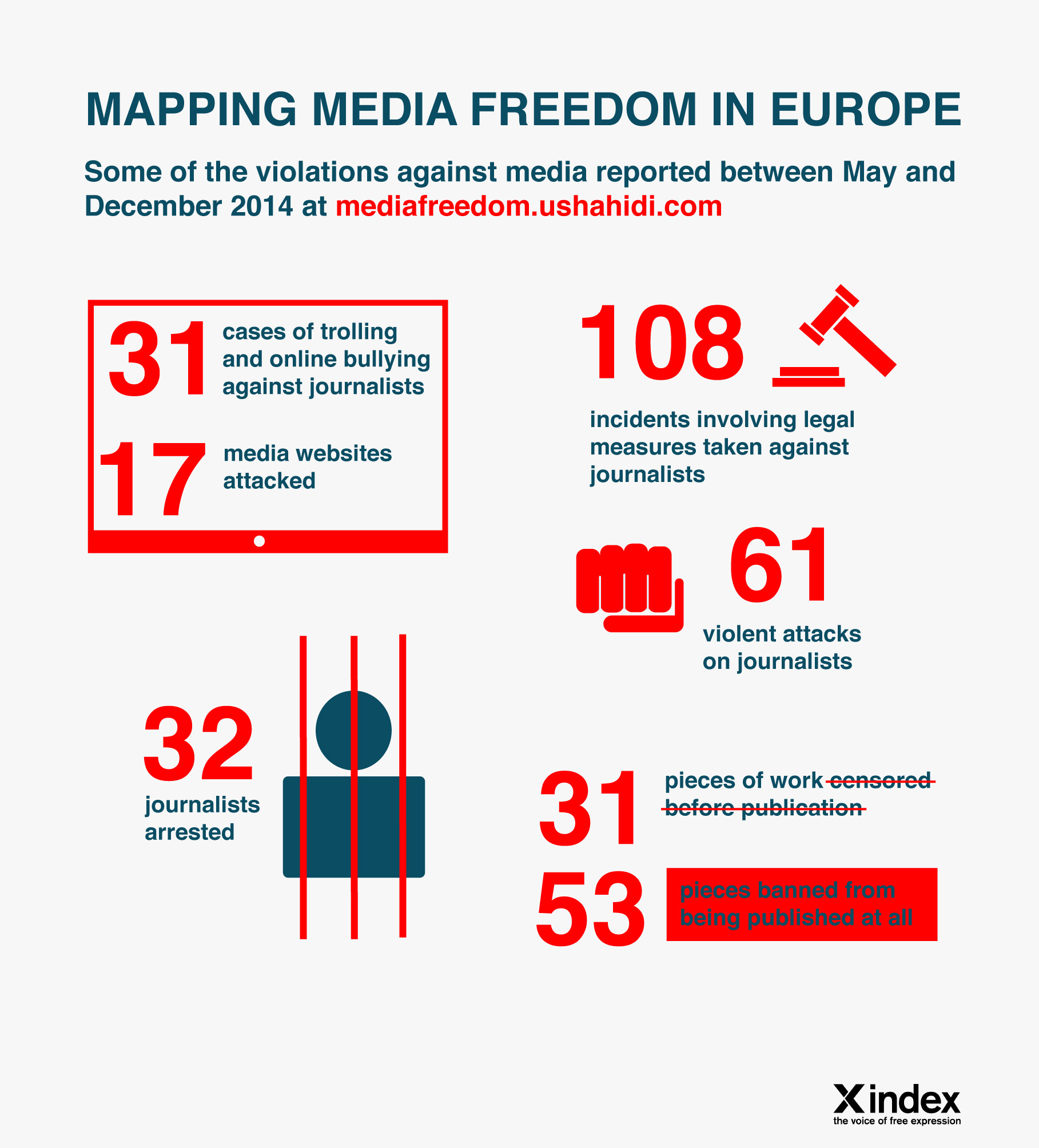 This is the reality of being a journalist in Europe in 2014

Selected incidents reported to mediafreedom.ushahidi.com

Turkey: Journalist Erol Ozkoray was sentenced to 11 months and 20 days in prison for defaming President Recep Tayyip Erdogan by referring to anti-Erdogan slogans and graffiti in his book about the 2013 Gezi Park protests
Germany: Blogger Su Yutong was fired by Deutsche Welle's Chinese service after tweeting about employee meetings, where staff were told to use restraint in their coverage of China
Hungary: Three journalists were chased with a hydraulic shovel by an employee of a rubbish dump after they tried to verify information regarding a possible leak from the EU-funded dump
France: Far-right party Front National sued and called for the resignation of journalist Guy Lagache after his TV show aired an undercover documentary about one of their municipal campaigns
Albania: A masked attacker tried to shoot Artur Cani, an investigative journalist for TV News 24, near his home in Tirana
Kosovo: Milot Hasimja, a journalist with the Pristina-based TV Klan, was knifed at his desk by a man apparently unhappy with a feature Hasimja did on him
Netherlands: Freelance photographer John van Ieperen was beaten by a security guard when covering the aftermath of an explosion in an apartment building that killed two residents
United Kingdom: Blogger Michael Abberton who broadcast "fact checks" about the UK Independence Party said he was advised to delete a tweet about the party's policies after being visited at home by two police officers
Serbia: Dusan Dragisic, a local businessman, threatened to cut off the nose and ears of Nenad Tomic, owner and editor-in-chief of the website Ruma
Bosnia: Professor Slavo Kukic, a prominent writer and columnist, was severely beaten with a baseball bat in his office at the University of Mostar
Italy: Pino Maniaci, head of Sicilian TV station Telejato who is known for reporting on the Sicilian mafia, found his pet dogs hanged from a metal post in a yard near his office
Bulgaria: The company car of bTV political journalist Genka Shikerova was set on fire outside her home in Sofia
Categorisation of violations

There are 51 different labels used to organise the incidents reported to mediafreedom.ushahidi.com

Legal measures


Incidents that involved the threat of or filing of legal actions

Censorship


Incidents that included partial or complete censorship

Government threat


Incidents that originated from a government representative or agency
Co-Funded by