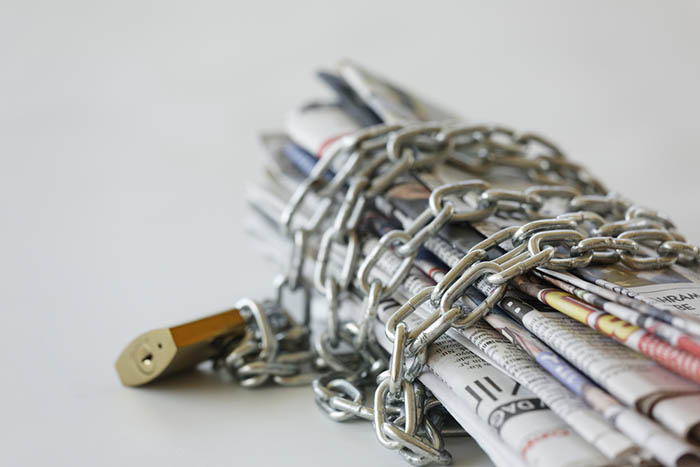 Each week, Index on Censorship's Mapping Media Freedom project verifies threats, violations and limitations faced by the media throughout the European Union and neighbouring countries. Here are recent reports that give us cause for concern.
The German foreign intelligence services, the Bundesnachrichtendienst (BND), has allegedly been wiretapping over 50 journalists and editorial departments of major international news organisations.
The report, published in the weekly magazine Der Spiegel, revealed that the BND has been monitoring phone numbers and emails of journalists from organisations such as BBC and the New York Times since 1991.
Although journalists in Germany are protected by constitutional rights including the right to source confidentiality and witness-refusal, the German parliament recently passed a law in October 2016 which legally allows the government to target and surveil foreign journalists.
DJV, the German journalist union, issued a press release in which the BND informed the union that they were only looking at "operational aspects" of its work that would be "exclusively against Federal Government or against the competent bodies of the German Bundestag".
Eleven Russian law enforcement officials including three FSB officers, an investigator, and four police officers, raided the Moscow apartment of Zoya Svetova, an activist and journalist for Open Russia and the New Times.
Lawyers Marina Andreyeva and Anna Stavitskaya reported via a Facebook post that Svetova's computers, memory cards, and other devices were searched in connection to an investigation and criminal case against Mikhail Khodorkovsky, an exiled businessman whom Svetova has been linked to. Khodorkovsky, a known foe of the Kremlin, served 10 years in prison following a trial for financial charges before being pardoned by President Vladimir Putin.
According to the lawyers and Svetova's colleagues at Radio Free Europe, documents collected during the search are still being processed as of 28 February.
Mehman Huseynov, a popular video blogger, was sentenced to two years in prison for defamation charges by the Surakhani district court.
Huseynov was detained on 9 January in Baku for allegedly violating administrative rules for sharing videos which claimed to expose corruption among Azerbaijani officials. He was held for five days and the court fined him 200AZN (€100) for disobeying the police upon arrest. Huseynov was convicted of lying about being tortured while in detention, claiming that police officials places a bag over his head and repeatedly assaulted him.
Huseynov is known as an investigative journalist who focuses on uncovering corruption among Azerbaijani government officials and has been monitored by authorities for several years. Huseynov is also the first person to be arrested on slander charges in Azerbaijan.
Radio Vesti, the largest national professional radio channel in Ukraine, has lost its broadcasting license in the capital Kyiv as well as the Kharkiv city area as a result of a ruling by the National Radio and TV Council.
According to Ukrinform, the National Council Deputy Chairman Juliana Feschuk said that Radio Vesti failed to comply with two warnings to change its program concept and failure to comply with quotas for Ukranian language broadcasts. The law requires 50 per cent of broadcasts to be in Ukranian but Radio Vesti reportedly had 49.22 per cent. The term of the license ended on 13 February.
Marina Bakumenko, the head of Radio Vesti's legal department, said that the company has filed an appeal through the Frankivsk district court of Lviv.
The National Union of Journalists in Ukraine said that approximately 90 per cent of the staff and 100 employees could lose their jobs as a result of the decision.
Journalist Aleksandar Todevski and cameraperson Vladimir Zhelcheski of Alon, a news website, were allegedly assaulted by protesters during a pro-opposition protest in Skopje. The two were taken to the hospital and a camera was damaged as a result of the assault.
Reports by various news outlets including private national broadcaster Telma and the news website SDK.mk, unidentified protesters beat and kicked the Todevski and Zhekcheski during a protest in front of the Assembly of the Republic of North Macedonia. Protesters were rallying in support of the former ruling party VMRO-DPMNE in opposition to the formation of a new coalition government.
Although the assailants were photographed by other media crews, police have reportedly not looked into an investigation. Journalist associations in North Macedonia, including OSCE Representative on Freedom of the Media Dunja Mijatovic, condemned the incident, saying that recent attacks on journalists are constantly being overlooked by authorities.